Jokes in "Abrázame Muy Fuerte"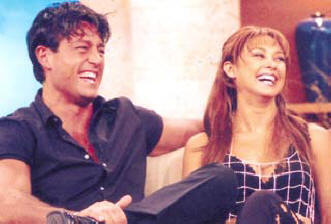 Jokes and more jokes in Abrazame Muy Fuerte

Doubt does not fit, so that a soap opera is attractive for the public, is successful and leaves perfectly, must count on a very good history, a good distribution, a production without limitations and, of course the very good humor, comradeship and harmony between all the involved ones.

So it is the case of the production of Salvador Mejía, Abrázame muy Fuerte , because in all the recordings, as much the actors as the technical personnel and of production, they go it making jokes and smiling to the smaller provocation.

Victoria Ruffo and Cesar Évora does not let sing between scene and scene and play to see who is intoned and the one than more songs is known. That yes, everything between laughter and jokes on the part of the Cuban actor.

On the other hand, Fernando Colunga spends his free times doing jokes to them to his companions of production and this week was not the exception. For example, to the assistant of Aracely Arámbula it hid a suitcase to him and it was returned until it saw that the girl so was distressed that she had already called to the personnel of security of Televisa so that they found the person in charge of such audacity.

Also a companion of the production staff was one of the chosen ones by Colunga, because to her she hid a folder to him in which she brought his libretos and the annotations that had done so that the scenes left perfectly; while the girl looked for and asked for his appreciated folder, Fernando not towards another thing that to reir itself. But as soon as she saw that truely she was worried, offered itself to help to only rescue it of the "low world" (according to him) if her companion flattered a chocolate to him. And as the girl wished to recover her properties, she acceded to the request of Fernando Colunga. Thus, while it was going to buy the chocolate, the likeable actor removed from a furniture the looked for folder to give back it to his companion and thus to stay as a hero.