Seven minutes with Fernando Colunga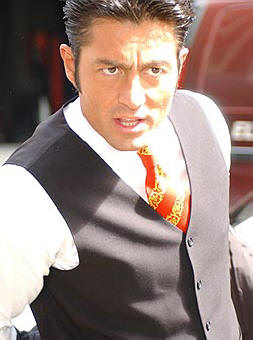 Translated article from Univision.com
By Jennifer Garcia Catron. May 20, 2003.
"Dont worry you tell me and I pay", says to the actor of soap operas Fernando Colunga in English with accent. It is the end of his telephone conversation, he is in New York and sure he'll confirm the shopping of products for theatre, he walks and is difficult to follow his steps, when he closes the telephone, turns around, he smiles and says: "Hello", the magical word that allows us to occupies seven minutes of his time.
Fernando Colunga is one of the actors of soap operas more hermetic and difficult to interview. Recently Fernando visited New York to present, in an event of Univision, his new telenovela: "Real Love" (Amor Real).

The actor did not want to give interview, at any time he was accompanied by the assistant and he did not contact the other invited actors. He only stopped to greet Adela Noriega, his partener in telenovela, and he was letting photograph next to Joanna Benedek.

Now the actor is completely shipped in the shootings of "Real Love" - a telenovela which recreates a story of love which occurs in the XIX century, and now it is only subject or conversation.

What do you like more in 19th century?
I like everything, because it is magic. It is like I live in time when physically I could not live. It is a game, but on the other hand it is a tremendous experience to speak about which is difficult.

During the shootings of telenovela probably there were funny stories, tell us any.
Everything was funny. The best experience than you can have is to move from where you are, I lowered of an automobile and right now I am in 1870 and I am above of a horse and everything finished what I know.

But, one funny story in concrete?
Funny histories we have all because we are living in a fantasy, day to day, will happen something that you don't know, don't delays. Comes back something magic, we are in situation to wait.

Amor Real is recorded in natural exteriors, three hours away from Mexico D.F. (a place where Fernando lives), reason why the actor probably does not have time for anything else. And the love? Here is a question not about telenovela.

And how is your sentimental life?
It goes…

Goes?
Yes. It goes, goes, goes…

The actor changes in his face so we shall come back to telenovela.

How is to work with Adela Noriega?
She is a good person, and when somebody is good other is not important.

And the other actors?
Wonderful. I think we found people, who have the same aim, who equally seriously care about their career. I talked recently to Adela, and she agreed, that nine months of the shootings had flown by as one day.

Well, seven minutes expired.