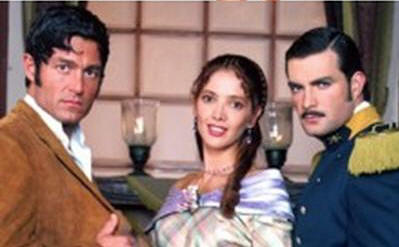 To save the videos on your computer click on the icon with right button on your mouse and then "Save Target As". Only in this way the videos will be saved.
Problem that can appear: Because my server has limited bandwith sometimes it is not possible to download the videos. Just wait one or two hours and come back here to download the videos again. If again you can't download them please e-mail me and tell me what 'error' message you got. Thanks!!
All promotional videos of Amor Real (except the video from Univision.com site) and video N#3 belong to my friend Juan Gabriel. Thank you very much Juan Gabriel!!
---
| | | | |
| --- | --- | --- | --- |
| Link: | Title: | Size: | Duration: |
| | Promotional video of Amor Real from Univision.com site | 2.50 MB | 1.40 min. |
| | Promotional video of Amor Real | 525 KB | 0.42 min. |
| | Matilde accepts to marry Manuel | 422 KB | 0.34 min. |
| | Mauricio Islas talks about Fernando (video from Univision.com site) | 1.53 MB | 1.00 min. |
| | Amor Real initiates recordings | 594 KB | 1.01 min. |
| | Promo of Amor Real - several scenes with the music of telenovela | 750 KB | 1.00 min. |
| | Promo of Amor Real - several scenes 02 | 765 KB | 1.00 min. |
| | Promo of Amor Real - presentation of the actors in the telenovela | 534 KB | 0.42 min. |
---