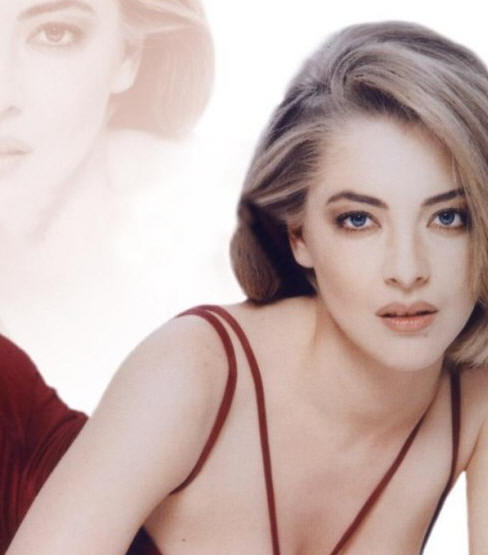 Edith González is one of the most serious and professional actresses in Mexico. She likes to play different roles, from poor girls to prostitutes. In "Nunca Te Olvidaré" we see her as Esperanza. When, her mother died, she lived with her godfather, ex-lover of her mother. She falls in love with Luis Gustavo (Fernando Colunga) when they were children, but the mother of Luis Gustavo separates them. Many years after, Esperanza will meet Luis Gustavo again, but now she has to fight against his mother and to win his love. That is what she will never forget. Except in "Nunca Te Olvidaré", Edith played in many other telenovelas like: "Salome", "Corazon Salvaje", "Rosa Salvaje"...
QUICK FACTS:
Name: Edith González Fuentes
Date of Birth: December 10, 1966
City: Monterrey
Country: Mexico
Sign: Sagitarius
Marital status: single
First role: At the age of 5
Height: 167 cm
Occupation: actress
Resides: México, D.F.
FILMOGRAPHY:
"Salomé" (2001) .... Salomé
"Nunca te olvidarй" (1999) .... Esperanza
"Cuento de navidad" (1999) Telenovela (mini)
Las Noches de aventurera (1998) Show .... Elena Tejeda/Herself
"La Jaula de oro" (1997) .... Oriana / Carolina
"La Sombra del otro" (1996) .... Lorna Madrigal
Salón México (1996) Movie .... La jaibita
Los Cómplices del infierno (1994) Movie .... Sandra
"Corazón salvaje" (1993) .... Mónica
El Descuartizador (1991) Movie .... Dra. Arizmendi
El Jugador (1991) Movie .... Remi
"En carne propia" (1990) .... Estefanía Muriel / Natalia de Jesús Ortega
Atrapados (1990) Movie .... Flor
Sentencia de muerte (1990) Movie
Trampa infernal (1989) Movie
"Flor y canela" (1988) .... Florentina
Central camionera (1988) Movie
Pero sigo siendo el rey (1988) Movie .... Laura
"Rosa salvaje" (1987) .... Leonela
"Monte Calvario" (1986) .... Ana Rosa
"Bianca Vidal" (1985) .... Bianca Vidal
"Sí, mi amor" (1984) .... Susana
Adiós Lagunilla, adiós (1984) Movie .... Mariela
"La Fiera" (1983) .... Julie
"Chispita" (1982)
"El Hogar que yo robe" (1981) .... Paulina
"Soledad" (1980) .... Luisita
Fabricantes de pánico aka Hostages! (1980) Movie .... Jessica
Guyana, el crimen del siglo (1980) Movie
" Los Ricos también lloran" (1979) .... Marisabel
Cyclone aka Tornado (1977) Movie .... Tiersa
El Rey de los gorilas (1976) Movie .... Betty
Alucarda, la hija de las tinieblas (1975) Movie .... Village Girl
" Lo Imperdonable" (1975) .... Gloria (as a child)
BIOGRAPHY:
(this biography is from http://mextelenovelas.tripod.com/)
Edith was born on 10th of December in 1966 in Monterrey, Mexico. As a child, she was a miracle, and with only three years she knew how to read and write. When she was 8 years old she played in one movie, and in 1976., when she was 10 years old, she played Betty in "King of gorillas". The role of spoiled daughter of Mariana and Luis Alberto in telenovela "Los ricos tambien lloran", Edith played when she was only 13 years old, and after that the roles just kept coming. So, she was: Susana in "Si, mi amor", Elena Tajeda in "La noches de aventura", Leonela Villarreal in "Rosa Salvaje"... In 1990 she played leading role in "En Carne propia" with Eduardo Yanez. When she got the offer to play Monica in "Corason salvaje", she ment to refuse it, but her brother convinced her. At the end she acted to be in love with Juan de Diablo (Eduardo Palomo) so well, that people were saying that she had "a chemistry" with Eduardo. After that in 1997 she acted in "La jaula de oro" with Saul Lisazo, and in 1999 "Nunca te olvidare" with Fernando Colunga. In that telenovela she played really hot shots with Fernando, but in reallity she started going out with Latin lover Enrique Iglesias (he sang the music theme). After that Edith went to Paris on a vacation, and there she practiced balet and her french. She has been always dancing and its one of her biggest loves together with acting. Before she returned to Mexico, Edith went to USA and shooted a cosmetic campain. In Mexico she acted in theather show "Avanturista", and she played a prostitute, so the public was without a word. In year 2001, Edith acted in telenovela "Salome" with Guy Ecker, and the producer was Salvador Mejia. Today she lives in a fancy mexican neighbours Montes Urales with her mother and brother. Edith likes do dance (her proportions are (91-57-90), play with her dog Toto, and she also collects white shirts, she would like to write a novel. Edith is in a relationship with Ignacio Toscana, the director of Art Institute in Mexico.
More about Edith you can find in
http://www.geocities.com/edithgonzalez2000
Photos of Edith: