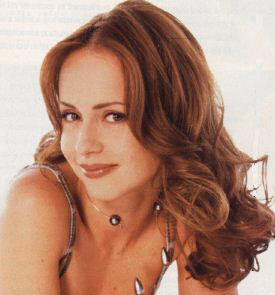 The beautiful venezuelan actress, who's father is from Croatia by birth, arrived in Mexico City in 1998 and started to shoot her first mexican telenovela "La Usurpadora" next with Fernando Colunga and got her fame all around the world thanks to the great success of this telenovela, which had the highest rating at that time. Her name is Gabriela Spanic, a megapopular actress all around the world, who has broken the hearts of the many people in the world with the role of poor Paulina in "La Usurpadora". She made another two telenovelas in Mexico - "Por tu Amor" and "La Intrusa", but none of this telenovelas reached the high rating of "La Usurpadora".
QUICK FACTS:
Name: Gabriela Elena Spanic Ulterra
Date of Birth: December 10, 1973
City: Ortiz, Guarico
Country: Venezuela
Father: Originally from Croatia, moved to Venezuela in 1947
Siblings: twin sister Daniela; sister Patricia; brother Antonio
Marital status: divorced
Ex-spouse: Miguel de Leon, actor
Height: 174 cm
Occupation: actress, model
Other facts: Miss Body in the "Miss Venezuela International" (1992)
Resides: México, D.F.
FILMOGRAPHY:
"La Venganza" (2002) .... Valentina
"La Intrusa" (2001) .... Virginia Martinez/Vanessa Reldon
"Por tu amor" (1999) .... Aurora Montalvo/Maria Del Cielo Montalvo Duran
"Más allá de la usurpadora" (1999) .... Paulina Martinez
"La Usurpadora" (1998) .... Paola Bracho/Paulina Martinez
"Todo por tu amor" (1997) .... Amaranta
"Quirpa de tres mujeres" (1996) .... Emiliana
"Como tú, ninguna" (1994) .... Raquel Sandoval
"Maria Celeste" (1994)
"Morena Clara" (1993) .... Linda
"Loba herida" (1992)
"Divina Obsesion" (1992)
"Mundo de fieras" (1991)
"Rosangelica" (1991)
BIOGRAPHY:
(this biography is from http://mextelenovelas.tripod.com/)
Gabriela, or Gaby how her friends call her was born on 10th of December in 1973, in Ortiz, Venezuela, but her father comes from Croatia. She visited her family in Croatia 3 years ago, her surname is Spanic ,and she has one brother Antonio, sister Patricia and her twin sister Daniela. As a little girl she wanted to become a dancer or an actress, so when she was a teenager she played little roles in telenovelas. Gabriela was fat and 174 cm tall. In only one month she lost 25 kg, and finally ended in hospital. Because of that quick diet Gabriela almost died, and it took her two years to completly recover, so since then she keeps her diet under medical instructions. She continued studying drama on Experimental college Columbo in Caracas. First she won the title of Miss Guarnico, and in 1992. she became Miss Venezuela. On the contest for Miss of the World, Gabriela was selected as one of the 10th most beautiful women. After that she continued her model career and played in many telenovelas like: "La loba herida", "Morena Clara" (1995.),"Todo por tu amor" and "Como tu, ninguna" in which her partner was Miguel de Leon. The two of them fell in love and a year after that on 22th October 1997 got married. Gabriela's career was going up, and so Miguel who was a very big actor in Venezuela, decided that he will give up his career and he came with her to Mexico. Soon after that they went to Mexico, where Gabriela had to play in telenovela "La Usurpadora". Miguel got the part of Douglas Maldonado, so the two of them practiced every day their mexican speech. In the telenovela she played with Fernando Colunga and Chantal Andere, and the serial was a big hit all over the world. After promote tours, Gabriela signed another contract with Televisa and in 1999. shooted "Por tu Amor" with Saul Lisazo. For the part of Maria del Cielo Montalvo, Gabriela had long blue hair, and the serial was shooted on a little Pacific island, so the crew had to stand high temperature all day long. On 22th November 2000, she and her husband celebrated their third anniversary, and Miguel bought her the biggest pare of roses and after that he took her to the most expensive restaurant where they celebrated with the closest friends. In year 2001. she shooted "La intrusa" with Arturo Peniche. That telenovela wasn't a big hit because the story was repeating itself from "La Usurpadora". After that she singed a contract with columbian TV RTI and Caracol. Gaby keeps her thin body with special diet: from Monday to Friday, in the morning she eats fruits, in 3 o'clock in the afternoon she eats pasta with tomatoes or soup, but on Saturday's and Sunday's she eats mexican food. In Mexico she won the title of most beautiful dressed woman, but she says that for that she has to thank her designer Jorge Castellanos. Soon, when she finished shootings of her new telenovela "La Venganza", she said that she has a love affair with the partner of this telenovela Jose Angel Llamas. She divorced with Miguel and ther are friends now, but "the happiest" marriage in Mexico ended.
More about Gabriela you can find in
http://gaby-spanic.tripod.com
http://gabyspanic.narod.ru
Photos of Gabriela: