Welcome to 'Screen Savers' page on this site!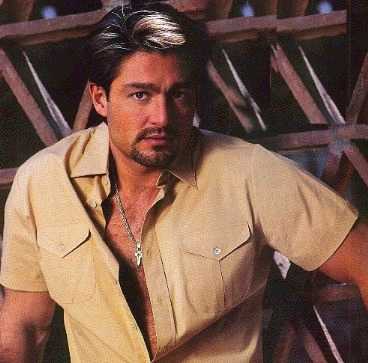 ONLY IN THIS WEBSITE YOU CAN DOWNLOAD A LOT OF SCREEN SAVERS OF FERNANDO AND HIS TELENOVELAS!
Before starting to download, please read this message of webmaster!
The screen savers AREN'T from other websites. I spent a lot of time to made them. So, IT IS NOT FAIR IF YOU USE THEM FOR YOUR WEBSITES WITHOUT MY PERMISSION. You can use them for yourself. I hope you will like them. Write me an e-mail message if you have any problems to download or to view the screen savers. Copyright is reserved.
In the screen saver I wrote message like: "Downloaded from http://fernando-colunga.5u.com" or something else. But, you can remove that message and write your own sentence in 'Display properties' in Control Panel. More info how to do this is available in the .zip file.
To extract the screen savers on your computer, you MUST HAVE WINZIP. If you don't have this program, you can download the trial version from here. To save the screen savers, you MUST with right button on your mouse click SAVE TARGET AS.

Download trial version of WinZip
That's all! I hope you will like the screen savers! Enjoy them!
---
Fernando's Screen Savers
Contains: Cool screen savers with pictures of Fernando and midi music (or without music)
Total screen savers: 17
Coming soon!!!!!
Amor Real
Abrázame Muy Fuerte Screen Savers
Contains: Screen savers with pictures of telenovela "Abrázame Muy Fuerte"
Total screen savers: 10
Nunca Te Olvidaré Screen Savers
Contains: Screen savers with pictures of telenovela "Nunca Te Olvidaré" and soundtrack of telenovela
Total screen savers: 6
La Usurpadora Screen Savers
Contains: Screen savers with pictures of telenovela "La Usurpadora"
Total screen savers: 9
Esmeralda Screen Savers
Contains: Screen savers with pictures of telenovela "Esmeralda"
Total screen savers: 12
María la del Barrio Screen Savers
Contains: Screen savers with pictures of telenovela "María la del Barrio"
Total screen savers: 6
Alondra Screen Savers
Contains: Screen savers with pictures of telenovela "Alondra"
Total screen savers: 3
---
I hope you like the screen savers which this site has. Soon I'll made screen savers of Amor Real and of course I'll put them here. So, don't forget to return here again.

Back to 'Multimedia' page