Parents about Fernando, Fernando about his parents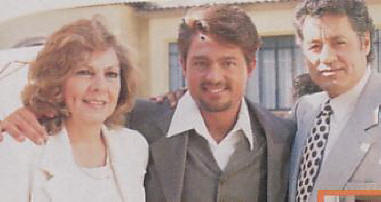 "Homicides", answers a voice in the other side of the telephone. "Homicides? It is not the house of the Colunga family? I am from "Cristina", the Magazine ", say to him alarmed.
A great laughter is listened to. "Excuse, I am Fernando. It thought that he was a friend and he wanted to him to play a joke. It is that I am very joking".

Thus it began our to talk with the lady's man Fernando Colunga, who with the savings of his work as gallant already goes by his third protagonist (Maria la del Barrio, soon Esmeralda and now records La Usurpadora) bought a house and he took to his parents to live with him!

"They are everything for me. They made the person what I am. What better than to invest my money with them", Fernando says, that he is only child and he finishes turning 30 years. "This week I travel from promotion to New York and I take to my mother. It enchants to me to be with my parents", affirms the gallant, who shines thinner. "That is thanks to my mother, who has supported to me in my diet. Although it does not have why, she still insists on taking care of my things, of my clothes, to do breakfast for me... I adore it".

In his reduced free time, to Fernando it fascinates to him to go away with his father who is not only called like him but who he is equal of lady's man to run moto, to play squash and softball . "We are more than father and son. We are friends. As much my mother as my father has supported to me in everything always". Whereas Fernando, father, who is executive in a company of motor pieces, says of his son: "He is good son. He learned the principles very well that we taught to him". And with humor he adds: "Ah! And not always we walked with Fernando, he has his private life and we were respected it".

In fact, after finalizing his love relation with Thalia and of being related to almost all the young ladys of the Mexican TV, Fernando has read about his relationship with the actress Sabine Mousier. "We are only friends. When I'll have a true love I will share it with the public", he assures.

"I am very happy. I have many friends and I do not deny that I am in search of the love. I already want to form a family, to give grandsons to my parents. I only love a good woman who understands to me. I do not want a barbie but to which me MIME and that lives with me all the life. I want to marry, I am only waiting for the indicated person ".

If, there is another one Fernando Colunga!