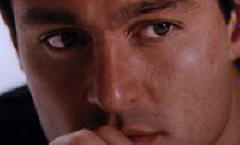 Short info:
Full name: Fernando Colunga Olivares
Born: 3rd of March 1966, Mexico D.F
Star Sign: Pisces
Height: 1.87 meters
Weight: 85kg
Parents: Don Fernando Colunga and Dona Margarita Olivares
Marital Status: Single
Profession: Former barman, civil engineer, actor, has his own auto-parts business, and has worked as a stuntman in some telenovelas.
Studied: Majored in Civil Engineering and later on got his drama education at CEA (Centro de Educacion Artistica de Televisa).
He loves: Kids, motors and fast cars
His favourite food: Pizza
His favourite colour: Blue
His pets: Two dogs - Max and Tiara
Hobbies: Has practiced martial arts since he was 9 years old, practices scuba diving in the Caribbean Seas and rides motorcycles in his free time.
His hero: His father
---
The handsome Fernando Colunga was born in 3rd of March in 1966 in Mexico City under the sign of Pisces. He is the most popular mexican actor and after twelve years of acting in telenovelas he earns 60 000$ dollars on a month. He is best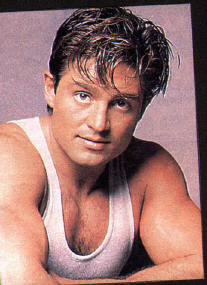 described as Romantic and loving the risk, Fernando appropriated himself to the screen through personages whose personality and idealism are looked at enough like their way to be in the real life. Famous, coveted and attractive, to the 36 years he assures that its appraised treasure more is the life. Unlike other artists Fernando never dreamt of becoming an famous actor, instead he went to university where he is received his Civil Engineering degree, but he has never worked by profession. One day, at the university Fernando heard, that he looked like an actor. For a joke he decided to take part in competition and was accepted. Fernando began his career as an actor at the theatre, then he initiated his performances in movies and soon to began a successful race in the Mexican telenovelas. Later on in his life he decided to study acting at a university in the United States. Fernando has always played positive characters, always charming and gentle gentlemens, with serious look, but very discrete, never aggressive, and who women always love and are great lovers. Every day he receives hundreds of letters in which he gets marriage proposals and gifts from women all over the world, but he is single for already seven years. Fernando was going to be an architect but after a few small parts in telenovelas like "Maria Mercedes", "Marimar" and "Alondra" he dedicated himself to acting. In 1996., on the set of "Maria de la barrio" he fell in love with his paretner Thalia. Their relationship lasted for about 2 years, it is said that they broke up because Thalia was very possessive and jealous. For famous mexican singer and actress he was just an adventure so their relationship didn't lasted long. But at that time his career was going up so in 97` he recorded "Esmeralda" with Leticia Calderon. The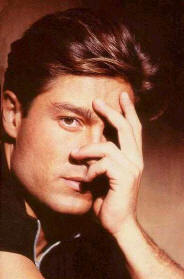 serial brought him more fans all over the world, and in 98` in telenovela "La Usulpadora" his partner was the Venezuelan young star Gabriela Spanic. After the shooting ended Gabriela said that Fernando`s kisses excite her. After that in 1999, his partner in "Nunca te olvidare" was the beautiful Edith Gonzalez, and the two of them had to play in some really hot scenes, but they have stayed friends. In year 2000, in serial "Abrazame muy fuerte" his partners were Cesar Evora, Victoria Ruffo and Aracely Arambula, and for the role of doctor Carlos Manuel he received TvyNovelas award for best actor. Eversince he started receiving similar awards for other acting projects. In his project "El pecado no original" he is acting again with Cesar Evora. At the moment Fernando is in the stages of filming his latest telenovela "Amor Real" produced by Carla Estrada which is a remake of the 1985 version of the telenovela "Bodas de Odio" where he playes the leading role of Manuel along with Mexican actress Adela Noriega. Fernando has participated in several movies such as "Besame en la boca" with the beautiful Mexican singer Paulina Rubio, and he has made it into the Mexican theater where he acted in "Un engano no hace dano" and "El pecado no original", but his real success is in telenovelas.
Fernando confesses that in his job the looks are the most important, so he likes to be fit. Every day he plays squash, tennis or goes to the gym. In Mexico he published a video tape "How to stay fit" about the culture of keeping your body fit, and it was a hit, just like Jane Fonda's and Cindy Crawford's videos in America. When he was young he wanted to be an architect, and 12 years ago he and his friend Francisco opened a motor bike store, which works very successful even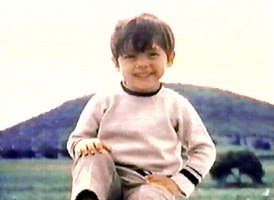 today. Fernando's private life is not so successful. Fernando is still single. After his relationship with Thalia, Fernando wasn't in other serious relations with other women. Fernando sometimes says he wants to have the same happy marriage as his parents have. Fernando live in parent's house because he doesn't want to save money on his own house. Fernando has passion for motors. The passion for motors began when his father bought him a motor for 12th birthday. Fernando also loves mexican traditional food like "enchilada" and "cesaidi". He has two dogs named Max and Tiara. His hobby is to look films of all genres at leisure. Fernando doesn't have any brothers or sisters. His childhood was a great celebration with two main guests: "My parents" - Fernando says. With them he made trips to almost all beaches of Mexico. Fernando says he never was the best student, but he was of the best ones. In one interview Fernando told he want to have 2 children.
---