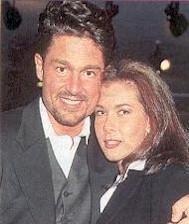 Did you know these small things about Fernando? Maybe yes, maybe no. But read them and discover what you don't know. If you have to tell me any more thing please send me an e-mail message.
Thanks to Peren for following informations!
In the Cristina show after Abrazame muy fuerte when they were reading fan e- mail questions someone had asked Fer if he had talked to Thalia since her wedding, Fer responded "No" but what's more interesting was Cristina's comment "We won't go into that subject but I will just say that if her mother knew how far you have come, you guys would have ten kids by now!".

Fer's partner in Abrazame muy fuerte Aracely Arambula was falling from the waterfall if Fer couldn't hold her. Aracely said that Fer is her guardian angel and saved her life.

Again in the Cristina show after Abrazame muy fuerte they asked "What is the most delicious part of your body?" and his answer was "Mouth"!

Fer dives somewhere outside Cancun at the weekends whenever he has time for a long time. He commented that it is a great place for diving espeacially at nighttime and added "It's like another world in front of your eyes"!

Fer has totally cut all grains,all salt, bread, tortillas, even limited red meat to a minimum. His diet is strictly proteins (chicken, fish, seafood, greens, cucumber and some tomato, etc.)

In the Cristina show after Esmeralda there was a girl in the audience who would not stop crying and screaming and waving her hands, so Cristina told her not to cry right on national tv and later at the end of the actual show Fer gave her a kiss on the cheek. After the official taping of the show was over, Fer addressed the audience and specifically called her up on stage again. She almost fainted. He then hugged her. She had no idea what to do so Fer told her not to do anything, then he gave a speech about the audience shows of support being the bread and butter of the artist and then he gave her the bowl full of fresh roses that was decorating the coffee table between the chairs as a show of appreciation from a 'caballero para una dama'.

Fer separated with his fiancee because of his works. He studied from the morning till the evening and his girlfriend was tired very soon with that life.

In the recordings of Abrazame muy fuerte once the nephew of Aracely Arambula came to the set. She, her nephew and Fer hung around and enjoyed much. Aracely commented that Fer will be a great daddy.

There were rumors that Fer had been together with Ana Patricia Rojo, Edith Gonzales, Gabriela Spanic, Adriana Fonseca even with Nora Salinas who is a great friend of Fer.

In the Cristina show after Nunca te Olvidare they joked about Fer playing jokes on Edith and her getting back to him by biting his lips on another kissing scene.

It is well known, that Fernando is a cinemagoer. He can watch films of all genres from the morning till the evening. He likes collecting, and collects everything, that he sees, - sunglasses, hats... And about one collection - of cars, he only dreams.

Acting in numerous telenovelas Fer didn't refuse an opportunity to join singing; he has plans to record a disk, but he cannot decide yet what gender to choose - a ballad or rancheras, though he prefers the last.