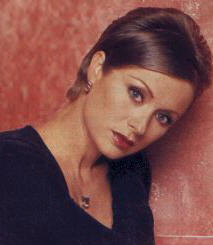 Leticia Calderón, the talented green-eyed mexican actress began her carrier when she was only 15. Showing her talent in the telenovela "Esmeralda" she got her fame all around the world. In "Esmeralda" she tried to win the real love, but in the real life she is divorced and still searching for the real love. Her latest telenovela is "Amor Real" again with Fernando Colunga. Others very successful telenovelas of Leticia are: "Laberintos de Passion", "Valeria y Maximiliano", "El diario de Daniela" and many others.
QUICK FACTS:
Name: Leticia Calderón
Date of Birth: July 15, 1968
City: Puerto de Guaymas, Sonora
Country: Mexico
Marital status: divorced
Ex-spouse: Marcos Leon Lopez, lawyer
Pets: shepherd Selmer and rottweiler Jack
Favorite music: jazz, blues
Favorite actor: Marcello Mastroninani
Occupation: actress
FILMOGRAPHY:
"Amor Real" (2002/2003) .... Micaela
"Cuento de Navidad" (1999) (mini)
"El Diario de Daniela" (1999) .... Lenore Monroy
"Laberintos de pasión" (1999) .... Julieta Valderrama
"Esmeralda" (1997) .... Esmeralda
"La Antorcha encendida" (1996) .... Teresa de Muñiz
"Prisionera de amor" (1994)
"Entre la vida y la muerte" (1993) .... Susana Trejos
"Valeria y Maximiliano" (1991) .... Valeria Landero
"Yo compro esa mujer" (1990) .... Ana Cristina
"La Casa al final de la calle" (1989) .... Teresa Altamirano Najera
"El Ángel caÍdo" (1989)
"La Indomable" (1987) .... María Fernanda
"Tal como somos" (1987)
"Monte Calvario" (1986) .... Tere
"Principessa" (1984) .... Vicky
"Amalia Batista" (1983) .... Leticia
"Chispita" (1982)
BIOGRAPHY:
(this biography is from http://mextelenovelas.tripod.com/)
Leticia Calderon was born in Mexico, on July 15, 1968. Since childhood her dream was to become an actress. Today she is one of the most popular actresses in Mexico and other countries. Her role in the telenovela "Esmeralda" boosted her popularity. When she is not working she likes to sleep, cook and meet with friends. Her last telenovela - "Laberintos de Pasiones". Leticia was married and now divorced to Marcos Leon Lopez. They married when the shooting of "Esmeralda first began, and then Marco began disturbing her at work. Today Leticia is working on her film. She is trying to forget the problems in her life and her difficult divorce.
More about Leticia you can find in
http://orbita.starmedia.com/~minhanovela/leticia.htm