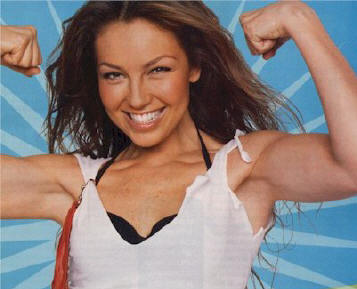 Who is the most popular heroine of Fernando Colunga? Maybe you will choose your favourite, but, with no doubt Thalía is really the most popular. She is actress and singer, part of the most popular Hollywood stars. Married with Tommy Motola, Thalia is today planetary star and favourite person in almost every home in the world. What makes Thalia so popular? She is very talented, she has popular sister too (Laura Zapata - "Esmeralda", "La Usurpadora"...) and once she was Fernando's girlfriend. Today, Thalia is concentrated on her music carrier, but we hope we will see her on TV very soon. We know her by telenovelas like: "Maria la del Barrio", "Marimar", "Maria Mercedes" and "Rosalinda".
QUICK FACTS:
Name: Thalía Ariadna Sodi Miranda
Date of Birth: August 26, 1971
City: Mexico D.F.
Country: Mexico
Father: Ernesto Sodi Pallares
Mother: Yolanda Miranda
Siblings: 4 older sisters: Laura Zapata (actress), Gabriela, Federica y Ernestina
Marital status: married
Spouse: Tommy Motola, CEO of Sony Music Entertainment
Hobbies: listening to music, sleeping, diving, skiing, reading
Ideal man: Elegant, sincere, passionate, hard working, good man with a big heart
Idol: Marilyn Monroe
Favorite singer: Jim Morrison
Favorite actor: Mel Gibson
Paradise place: Any with a beach nearby
Dream: to have children
Height: 174 cm
Occupation: actress, singer
FILMOGRAPHY:
Mambo Café (1999) .... Nydia
"Rosalinda" (1999) .... Rosalinda
"María la del Barrio" (1996) .... María
Vamos al baile (1996) Movie
"Marimar" (1994) .... Marimar
"María Mercedes" (1992) .... María Mercedes
"Luz y sombra" (1989) .... Alma
"Quinceañera" (1987) .... Beatriz
"La Pobre Señorita Limantour" (1983) .... Diana
La Guerra de los pasteles (1978) Movie
DISCOGRAPHY:
Thalía (2002)
Thalía con Banda, Grandes Exitos (2001)
Arrasando (2000)
Jugo de Exitos (1998)
Amor a la Mexicana (1997)
Nandito Ako (1997)
En Extasis (1995)
Love (1992)
Mundo de Cristal (1991)
Thalía (1990)
BIOGRAPHY:
(this biography is from http://mextelenovelas.tripod.com/)
There has never been any doubt about the unstoppable force that Thalia is in the world of Latin music. An intoxicating swirl of luxurious brown hair, swiveling hips, and a face that is as angelic as it is seductive, Thalia was from the beginning destined to conquer a legion of worshippers. She's spent the '90s amassing an army of fans from her native Mexico to Europe and Asia. But now, with her new release, Thalia, which features 10 stunning new tracks in Spanish and three tracks in English, she has shown there are no limits to her continuing growth as an artist. This release solidifies her position as one of Latin pop's most powerful voices. The new album represents a tremendous leap forward in Thalia's extraordinary career. Her collaboration with major hitmakers like Estefano, Emilio Estefan Jr, and Corey Rooney have produced boldly inventive hit songs using state-of-the art production strategies. "I have experimented with several kinds of rhythms over my last eight albums—mambo, salsa, merengue, dance, house, cumbia," said Thalia. "At this moment in my life I want to relax and surround myself with musicians determined to create new sounds, a new atmosphere. We wanted to create magic with this record." Born Thalia Ariadna Sodi, this arrestingly vivacious singing, acting, and dancing talent began her career as a child on Mexican television and in Mexico City's theater. Thalia, whose name comes from the Greek muse of the theater, followed in the footsteps of her older sister. "I would have to behave all week in school so that I could go to see my sister perform on the weekends," said Thalia. As a child she sang with groups like Din Din and Timbiriche, and was soon offered a part in Quincenera, the first Mexican soap opera geared toward children and adolescents. After a successful run on TV and the stage, Thalia, still a teenager, decided to move to Los Angeles in the '80s, where she met her long-time collaborator and producer, Alfredo Diaz Ordaz. "He was a '60s kind of guy," said Thalia. "We made a very strong connection because I loved the Doors, Aerosmith, and Journey. I was always kind of a rocker." Diaz Ordaz produced Thalia's self-titled debut in 1989, which was followed by 1991's Mundo de Cristal and 1992's Love. In the '90s, Thalia also had great success as an actress in highly rated soaps such as Maria Mercedes, Marimar and Maria La Del Barrio, establishing herself as an international star. In the '90s, her career exploded, especially because of her collaboration with producer Emilio Estefan Jr., on the albums En Extasis, (1995) Amor a lo Mexicano, (1997) and Arrasando (2000). "To work with Emilio Estefan has been for me my good-luck charm," said Thalia. "When he gave me the song 'Piel Morena,' four albums ago, it made my career as a singer." Estefan continues his work with Thalia on "La Loca," a sultry cumbia-rock tune featuring a guest appearance by Panamian rockers Los Rabanes. Thalia features seven songs by Estefano, a major songwriting and producing talent who has worked with Enrique Iglesias, Chayanne, and Alexandre Pires, among many others. Estefano is behind the sexy rhythms of the breakthrough hit single "Tu y Yo," which also appears in a remixed version as a duet with Tejano stars A.B. Quintanilla and the Kumbia Kings. Corey Rooney, a mastermind talent who has anchored the work of Jennifer Lopez, Marc Anthony,
Destiny's Child and Michael Jackson added music to Estefano's lyrics on the ballad "Heridas en el alma." Rooney not only collaborated on the steamy track "The Mexican 2002," but surprised Thalia at the last minute with his inclusion of Marc Anthony's back-up vocals. Thalia's exceptional ability to create an emotional mood is on display on ballads like "Asi es el Destino," and "No me Ensenaste." But one of her irresistible charms is her ability to switch between her role as good girl and bad girl. The brash, uncontrollable side of Thalia is on display in "En la Fiesta Mando Yo," as well as a cover of the '80s European dance club hit, "A Quien le Importa. "I was very influenced by the '80s," said Thalia. "It had all kinds of influences in pop and rock. It was great because it was a fusion of different sounds that created a new sound". Thalia's love for the '80s was also behind her choice to record Dead or Alive's classic "You Spin Me Round (Like a Record)". "I just wanted to have fun with it," said Thalia, who is confident about performing in English. "I did an album of my songs in English for South Asia several years ago, and I also sang on the soundtrack for the Fox animated film, Anastasia," she said. "This is my third time in English and I fell secure about it. "Thalia is like taking an exhilarating ride to the top of a mountain with a musical legend in the making. But it's a ride in which Thalia never loses sight of her real self. Like many women of her generation, Thalia is an alluring enigma—is she the sensitive, yearning woman looking for love on the ballad "Y Seguir," or the too-hot-to-handle cumbia-rap temptress of "La Loca"? The answer is, a little of both. "I can be very sweet, very compassionate, very loving," said Thalia. "I can also be very aggressive, strong, defining my boundaries. I can be sweet, and I can be sexy. I'm always honest and that's what I give through my music."
More about Thalia you can find in
http://www.thalia.com
http://crazythalia.kolayweb.com

Photos of Thalia:
























to be continued...