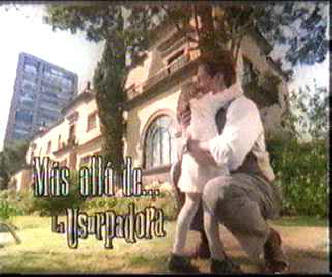 | Synopsis | Cast | Photos | Song | Videos |
A YEAR LATER
Paulina and Carlos Daniel have a daughter, Paulita, she got a name of Paulina's mom. Raquel is a babysitter in the house of family Bracho and she is in loves Carlos Daniel. Paulina goes to the doctor Varela to get the results of her examination that she made few days ago because she didn't feel well. Doctor Varela tells her that she has terminal cancer and just six months to live. Paulina asks doctor Varela not to say anything to her family because she doesn't want them to suffer. Piedad suspects that Paulina is hiding something; soon Paulina tells her the truth about the cancer she has. Paulina doesn`t want Carlos Daniel to be alone when she dies so she decides to put Raquel on her place after her death. She begins to teach Raquel how to be an elegant and cultured woman. One night Raquel tells Carlos Daniel that Paulina has cancer and she will live just six months more. Paulina is in her bedroom and sees Paola in the mirror saying: "Here I am, dear sister. I'm waiting for you in the hell; we'll be together soon. You bought me that car for invalids and it's your fault I'm dead: After all Carlos Daniel won't be yours, `cause of the cancer you have." Paulina breaks the mirror and in that moment Carlos Daniel comes in the room. He consoles her and says they will go to another doctors. Estefania is recovering and she feels fine, she remembers lots of things of her life and finally remembers Fidelina as her mom. Now she wants to leave the hospital and get her son back. Patricia and Rodrigo are sad because Estefania wants her son back, they love him like they are his parents. Rodrigo tells Estefania that he won't give her the baby back until they are sure she is completely cured. The doctor wants Estefania to stay in hospital for few weeks more, on the observation.
FEW DAYS LATER
It's the anniversary of wedding of Paulina and Carlos Daniel. Raquel doesn't want to wait six months until Paulina dies so she goes to buy a poison to kill her. In the evening begins the party for the anniversary. Paulina tells Carlos Daniel to see what is taking Raquel so long to come down. Carlos Daniel goes to Raquel's room, she seduces him and kisses passionately but he reacts immediately and pushes her away. Estefania runs away from the sanitary and kidnaps her son from Rodrigo`s house. Raquel takes to glasses of wine and in one of those puts the poison. While she is talking to Rodrigo and Patricia, Lisete takes the glass of wine with the poison but Carlitos takes it away from her changing the places of the glasses. Raquel gives Paulina the glass of wine where she thought the poison was and Raquel takes the other one; they drink the wine. Soon, Paulina faints and Raquel thinks it's `cause of the poison. Then Raquel faints, too, and she is taken with Paulina to the hospital. Doctor Varela tells Carlos Daniel and Paulina, who is now awake, that she doesn't have cancer. Her examination results were confused with the ones of another woman. The reason Paulina feels weak is because she is pregnant. The doctors are trying to save Raquel who has drunk the wine with the poison. Raquel is really sorry for all she did and she confessed to Paulina that she tried to kill her. Raquel tells Paulina and Carlos Daniel that they deserve to be happy. After all Raquel stays alive and goes to live away from Mexico.
On Sunday, the whole family Bracho is reunited in their house. Estefania is now happy with her son and mother; Rodrigo and Patricia plan to have a baby, abuela Piedad is happy again `cause the peace has returned to their house.
Carlitos asks Carlos Daniel to make a photo with a camera; the camera is automatic so he programs it, so the whole family is on the photo: Paulina and Carlos Daniel, Carlitos, Lisete, Paulita, Abuela Piedad, Estefania and her son, Fidelina, Rodrigo and Patricia. Under the photo is says that everyone will be always happy.
Gabriela Spanic - Paulina Martinez Bracho
Fernando Colunga - Carlos Daniel
Yadira Carrillo - Raquel
Libertad Lamarque - Abuela Piedad
Chantal Andere - Estefania
Marcelo Buquet - Rodrigo
Jessica Jurado - Patricia
Paty Díaz - Lalita
Magda Guzmán - Fidelina
Sergio Miguel - Carlitos
Sara Montes - Eloina
María Solares - Lisette