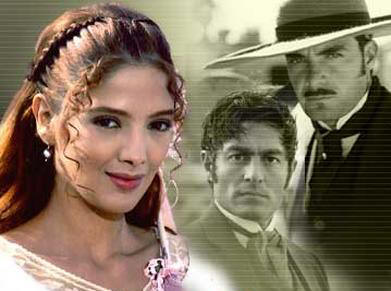 | Synopsis | Cast | Photos | Song | Videos |
At a time of deep romanticism, the century XIX, Matilde Peñalver y Beristain, contravening the rules of the aristocracy to which she belongs, falls in love with Adolfo Solís, a military man without fortune, trusting that her father will let her marry with him. But Augusta, Matilde's mother, is determined to marry her daughter with a rich man to save the family of the economic ruin. Manuel Fuentes Guerra is the perfect candidate since he is young, handsome and of good feelings, and finishes inheriting a great fortune. Augusta ignores that Manuel is a bastard son of Joaquin Fuentes Guerra, a powerful landowner that abused humble a provincial girl, and only months ago he recognized Manuel like his son. In the middle of intrigues, the arrogant Augusta and her son Humberto obtain that Adolfo goes to prison, and make believe to Matilde that her loved man is married and has children. Matilde, pressed by her mother and, knowing that Manuel covered the debts with the family, accepts to marry. Adolfo manages to escape of prison and first that he does is to look for his loved Matilde, that finishes marrying with Manuel. Desperate and secretly, Adolfo manages to speak with Matilde and to clarify the bad ones understood. Swearing eternal love, they decide to flee together. But Manuel discovers them and, still wounded in more deep, he is not arranged to resign to her. He takes her to his land and there he consumes the marriage. The stay of Matilde in the land is bitter because she does not love her husband and in addition she must support the audacities and intrigues of Antonia, the daughter of the old administrator. Antonia is in love with Manuel. On the other hand, Adolfo, after an intense and desperate search, finds out the whereabouts of Matilde and supplants the new administrator of the land to take of there his loved Matilde. Manuel, without knowing who is in fact the new administrator, gets along with him, giving a friendly treatment to him. Adolfo, in spite of the jealousy, must admit that Manuel is a good man, honest and exact. During this time, Manuel and Matilde discover they have been victims of the greed and intrigues of Augusta and Humberto. At the same time, the subtle attentions, the glances full of passion and the always latent desire of Manuel, finish conquering the heart of Matilde that a day, suddenly, finds that the love that she felt to Adolfo has disappeared and in her heart exists a new more intense feeling, a real love towards her husband. Matilde with pain says the truth to Adolfo. Although she does not want to hurt him, no longer loves him. Adolfo accepts the reality and, with the broken heart, he leaves the land the same day in which Matilde announces to Manuel that they are going to be parents. But the happiness of the pair lasts very little. Manuel discovers who was in fact his new administrator and, at a moment, everything collapses. For nothing are the explanations and the pleas of Matilde, because he does not forgives her that again she deceived him. Furious and until putting in doubt about the paternity of the baby, he throws to Matilde of the land. Shortly after he tries to forget her with Antonia, initiating a relation that jeopardizes him and it will make difficult to him to return with Matilde. The pair continues loving themselves with madness in spite of the separation, but both will have to face conflicts and intrigues before power to be happy and for being together for always.
Adela Noriega - Matilde
Fernando Colunga - Manuel
Mauricio Islas - Adolfo
Helena Rojo - Augusta
Ernesto Laguardia - Humberto
Ricardo Blume - Hilario
Mario Iván Martínez - Renato
Chantal Andere - Antonia
Adalberto Parra - Delfino
Mariana Levy - Josefina
Beatriz Sheridan - Damiana
Mauricio Herrera - Urbano
Ana Martín - Rosario
Maya Mishalska - Marianne
Ana Bertha Espin - Prudencia
Sara Monar - Ana
Toño Infante - Benigno
Oscar Bonfiglio - Sixto
Rafael Rojas - Amadeo Corona
Manuel "Flaco" Ibañez - Remigio
Julio Alemán - Joaquín
Yolanda Mérida - Doña Juana
Raquel Morell - Ma. Clara
Maty Huitrón - Madre Superiora
Gastón Tuset - Gervasio
Harry Geithner - Yves
Paco Ibáñez - Gregorio

Luis Xavier - José María
Héctor Saez - Silvano
Kika Edgar - Catalina
Ingrid Martz - Pilar
Jorge Vargas - Prisco
Carlos Cámara - Ramón
Alicia del Lago - Higinia
Ma. Dolores Oliva - Lázara
José Antonio Ferral - Benítez
Mario del Río - Lorenzo Rojas
Alejandro Villeli - Ezequiel
Carlos Amador - Orlando Cordero
Gerardo Klein - Santiago López
Dulcina Carballo - Jacinta
Fernando Manzano - Garza
Benjamín Pineda - Canales
Miguel Ángel Fuentes - El Negro
Lorena Álvarez - Bernarda
David Galindo - Nazario
Carlos Ache - Graciano
Mayahuel del Monte - Ceferina
Paulina de Labra - Ignacia
Joseba Iñaki - Jacobo Negrete
Albert Chávez - Pancho
Leticia Calderón - Micaela
Fátima Torre - Ma. Fernanda
Tanya Vázquez - Adelaida
Did you know...?


"Amor Real" is a remake of telenovela "Bodas de Odio" (1985) with Christian Bach, Miguel Palmer & Frank Moro.